Amprenavir is a new antiretroviral protease inhibitors with anti-HIV-1 and HIV-2 protease effect. It can deter protein fission required by the mature of HIV, interfere viral growth, and release viral molecules which are not mature and contagious. Long-term taking can lower blood HIV viral load, increase CD4 cells, reduce the chance of HIV infection, improve quality of life and prolong life.


Amprenavir was developed by Glaxo-Smith as 5th generation antiretroviral protease inhibitor. It was originally released in May 1999. After a long time development by Yuhao Chemical, we have completed amprenavir production process development. The product quality has reached the pharmacopoeia requirements. Amprenavir patent protection stops in November 2013. Yuhao Chemical officially opened amprenavir marketing from December 2013, please contact us for more information.

Structure: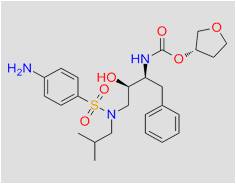 CAS:161814-49-9
Molecular formula:C25H35N3O6S
Molecular weight:505
Other names: (1S,2R)-3-[N-(4-Aminophenylsulfonyl)-N-ispropylamino]-1-benzyl-2-hydroxypropylcarbamic acid (3S)-tetrahydro-3-furanyl ester, KVX-478, AGENERASE, 141W94, PROZEI, 141W94;KVX-478, Ageneras, Prozei, Carbamic acid
Appearance:White to light yellow power
Density:1.3g/cm3
Melting point:72-74 ?